This has been a fantastic newsweek for a culturtwiner! I'm going to mention only two highlights here…
1. George Clooney gets arrested. Outside of the SUDANESE embassy for that matter. Hey, I've been there! I actually took my nephew there for his birthday. (It was an excuse to ride the metro train… but I loved how the older Sudanese gentlemen treated the cute little three-year old boy of whom I am very proud.)
My favourite part of the story is that he was co-arrested with his dad. Activism is some great father-son bonding. To be sure, the interviews with George after he made his USD 100 bail confirmed that it was all great fun for him.
The saddest part of the story to me was that two congressmen were also apparently arrested but they rated little more than a one-liner at the bottom of the articles about Clooney.
As a culturtwiner with a particular love for Sudan, though, I kind of wish he hadn't. He didn't help. He just made more people, on all sides of the conflict, mad.
2. The UN actually met one of its targets!
In early March, the United Nations announced that the global goal of cutting the number of people without access safe drinking water in half, has been achieved. The Millennium Development Goals are 8 goals that were set by the UN, all the other International Organizations (WB, WFP, WHO and a host of other acronyms), to be accomplished worldwide by 2015. Not only did it happen, but it happened before 2015!
Two thoughts on this one: First, I am struck by the irony of the fact that the publicity surrounding Kony2012 totally obscured the announcement of this monumental milestone. I'd say more about this, but really it's just ironic.
Second, Really? The goal was met? Just the other day a friend was telling me about how water programming is the biggest bang-for-buck in development work: biggest impact for the price. So either we finally discovered something is a good idea, and it's done. Or there's more to the story. One blog I read suggested that maybe the problem is sanitation: sure people have water but they don't keep themselves or their spaces clean with it. This is dangerous, as diarrhea is actually a leading cause of death in many places. Maybe the goal truly was met, in which case, this is a wonderful thing. Just 7 more to go in the next 3 years!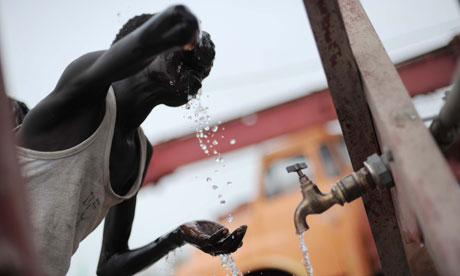 3. This one isn't really news, but it's oh-oh-oh so inspiring. Please…. click here and read about how Israelis and Iranians are bonding online: A Love Letter from Israel to Iran.